CAREFULLY CONSIDERED COMFORT &
NATURAL RHYTHMS OF SAFARI LIFE
The large airy safari tents of Tsowa Safari Island are nestled on the edge of the island on the banks of the Zambezi River under the shade of deep forest. Each tent has a small covered verandah set on the river's edge and looks directly across to the Zambezi National Park on the mainland. Wildlife frequents the water's edge in the late afternoon and early morning. The free-standing tents are set well apart from one another, with 20 metres separating each tent. The en-suite bathrooms each have a large indoor shower and a separate outdoor shower so that you may shower under open African skies. Nothing quite beats lying back on soft, white linen at the end of a fun day, to the night sounds of wildlife – maybe an owl hooting softly, a hyena calling or even lions mating (safely across the river!).
Carefully considered, the structural design is simplistic and clean, always treading lightly. The interiors are fresh with loads of natural, raw elements; home to a modern day explorer.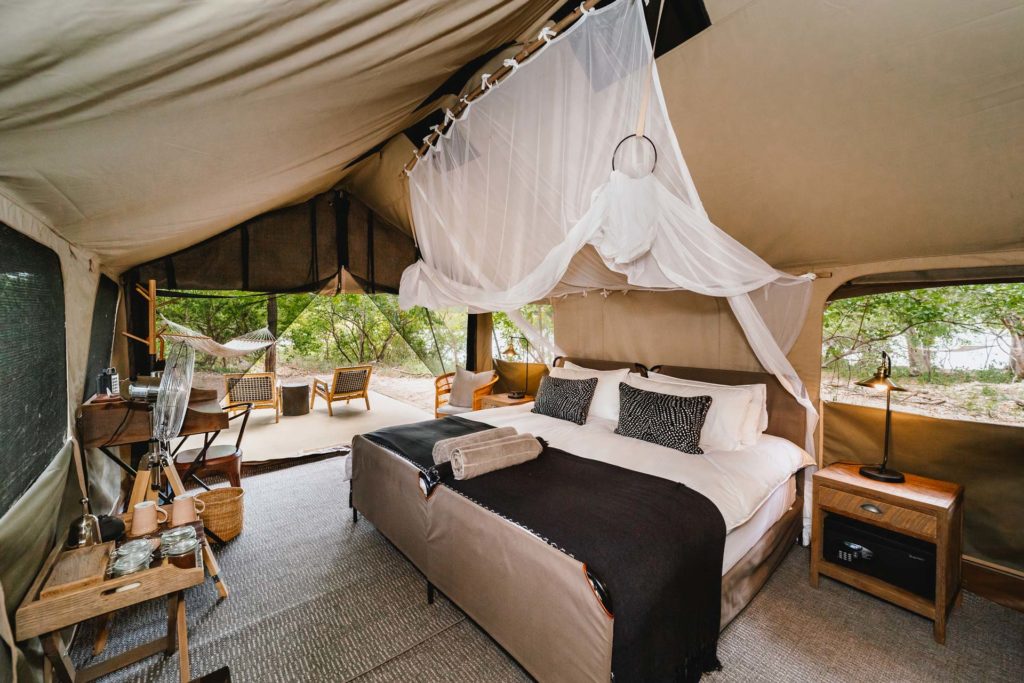 Tent
FROM $395/ NIGHT
The tents are of generous proportions, stylishly furnished and situated to take full advantage of the shade and river views.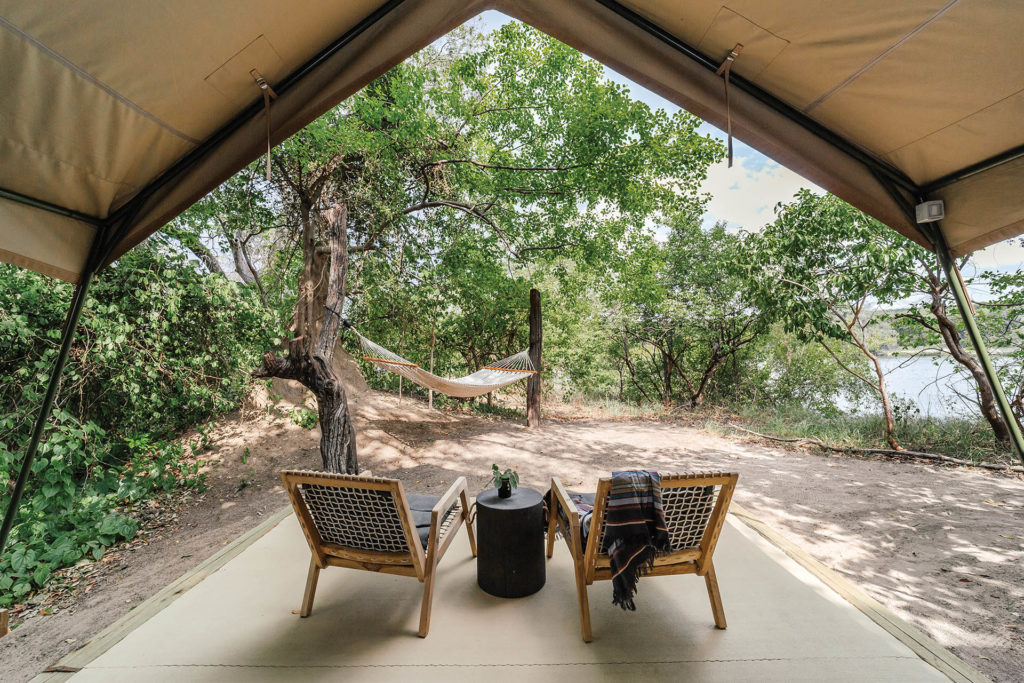 Tent
FROM $395/ NIGHT
The honeymoon tent is situated in the prime spot on a secluded spur of the island in the shade of magnificent trees giving one fabulous views downstream and across to the mainland where wild animals roam free.

"Island Paradise"
We just so enjoyed the tranquility and timeless feeling one gets as soon as you are on the island.

Staff are great, sun-downer cruise up the mighty Zambezi is always so special.Tents were private and one feels you are in the real africa. All in all, a special place to be revisited
F2160XWianb
Howick, South Africa
Stayed January 2020

"Peaceful Island Trip"
A blend of Safari and luxury with such attention to detail. The tents are nestled amongst the trees and the whole camp is very eco friendly overlooking the Zambezi river. It is peaceful as not many other boats around.

The birdlife and animals are great to see.

Francie and her team offer great service and the food is delicious.
Robyn H
Johannesburg, South Africa
Stayed December 2019

"Fantastic"
My spouse and I went to Zimbabwe to see Victoria Falls and Zambezi National Park. We had the good fortune to stay at picturesque Tsowa Lodge for three nights, which was a highlight of our month in Africa. The camp is fabulously small. In addition to lovely sitting/dining/bar area, campfire area, and swimming pools, there are currently 4 well-appointed guest tents nicely spaced for privacy. We were very impressed with the friendly and capable team Francie has put together, who collectively treated us like celebrities while maintaining a relaxed and comfortable vibe. The food was astonishingly good and guide Vusi was enthusiastic and knowledgeable, and he made sure we saw a huge variety of terrestrial and aquatic animals and birds. We do not hesitate to recommend Tsowa to anyone contemplating staying in the area.
ODaley2
Stayed December 2019

"Amazing"
We have just come back from a family visit to Tsowa Lodge, we had an amazing few days. The staff are so helpful and friendly. The accommodation is five star. Food really, really good! We had a super
efficient guide that took us on lovely walks and river cruises. Thank you, we will be back.......
Candace James
Stayed September 2019

"Exquisite Safari Lodge on an Island in the Zambezi River"
From the moment we boarded the transfer boat across the Zambezi River to Tsowa Island we knew we were experiencing a very special destination. From the cool welcoming ice tea drink and the friendly attentive staff to the exquisite evening dinner menus - the crocodile tail kebab and Kariba crayfish starters were epic - this lodge met all our expectations. The island itself can best be described as a small piece of paradise.
Gerald D
Eshowe, South Africa,
Stayed August 2019

"Simply incredible"
What a gem we found - we spent 2 nights at this new stunning lodge on the Zambezi. From warmth of the staff, the great food, comfortable tented accommodation and wonderful experiences both on the river, walking and game drives we didn't want to leave. Highly recommended.
CaitEscapes
Loughton, United Kingdom
Stayed August 2019

"Tsowa Safari Island, what an unforgettable destination!"
From our arrival right up to our departure we received only the best possible service & attention from Fransie, the manager & all the staff members of Tsowa Safari Island. We were spoiled for two nights in fabulous accommodation & enjoyed the most unbelievable meals, sunset boat cruises on the mighty Zambezi and game drives the Zambezi National Park. Tsowa Safari Island is an absolute winner and can only be highly recommended!
Hartmut & Irene
Stayed September 2019

"Lovely New Vic Falls option"
Absolutely loved my time at Tsowa - from extremely helpful staff and management to an idyllic setting, I loved every minute of my stay. The management even handled my gluten free dietary requirements perfectly. For a brand new property Tsowa is already a well oiled and professionally run camp!
Geoff Mayes
Naivasha, Kenya
Stayed October 2019