AN EMBRACING
NATURE EXPERIENCE
The site was chosen for its magnificent forest canopy and enormous termite mound resting gently alongside the lounge. The golden green light pours through the trees in the early morning and late afternoon. The fire pit deck is suspended over the Zambezi river and afternoons can be spent watching the reflection of the sunset over the Zambezi National Park as animals come down to drink.
Game drives are offered through this scenically beautiful national park. Start your day by gliding across the Zambezi River to the mainland where your safari vehicle will be waiting to take you on an early morning game drive in the Zambezi National Park – which is home to large herds of elephant, buffalo, lion, hyena, giraffe and numerous antelope species. The game drives are approximately 4 hours and include a refreshment stop. This activity is for children 12 years and older.
FIND OUT MORE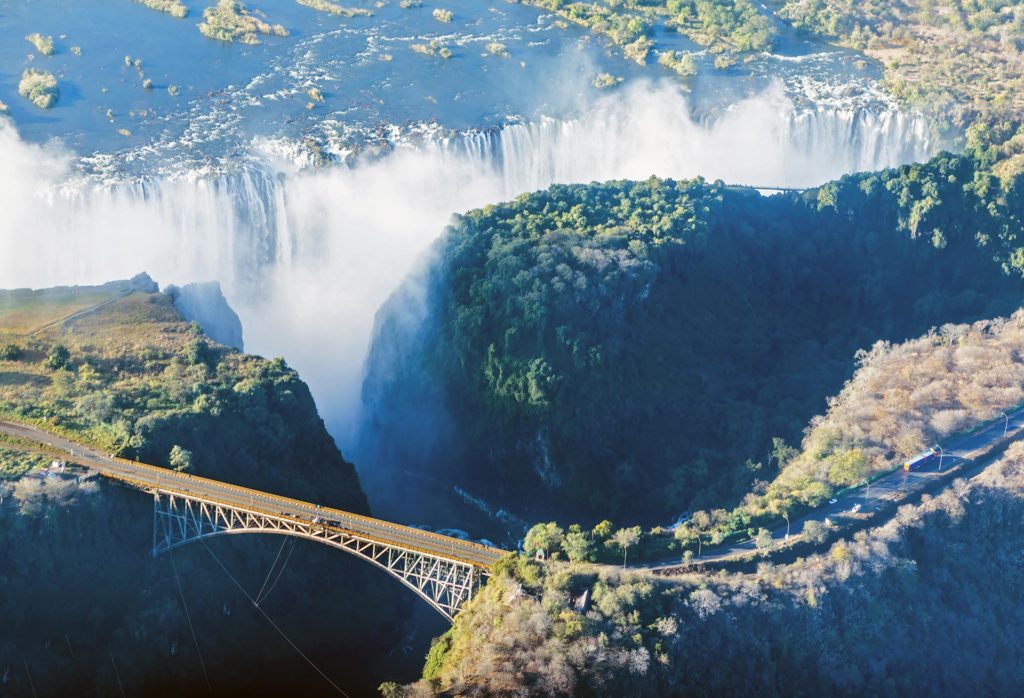 DAY TRIP TO VICTORIA FALLS
These trips are outsourced to a private company. Guests are collected from our private entrance to the Zambezi National Park and transferred to the town of Victoria Falls where they can view the splendid Victoria Falls, take high tea at the Victoria Falls Hotel, enjoy river rafting or bungee jumping on the Zambezi River and visits to the local curio shops and market.
Available year-round, canoeing is done in two-person inflatable canoes and is offered from mid-morning to early afternoon. Guests will be accompanied by guides also in inflatables. This fun activity is a great way to spend an adventurous afternoon. Guests leave from the island in their boats and have lunch and drinks en-route on the banks of the river. The landing point is approximately 1.5 hrs downstream. Guests are transported back to the island in a game viewing vehicle. Total excursion lasts approximately 3 hours.
FIND OUT MORE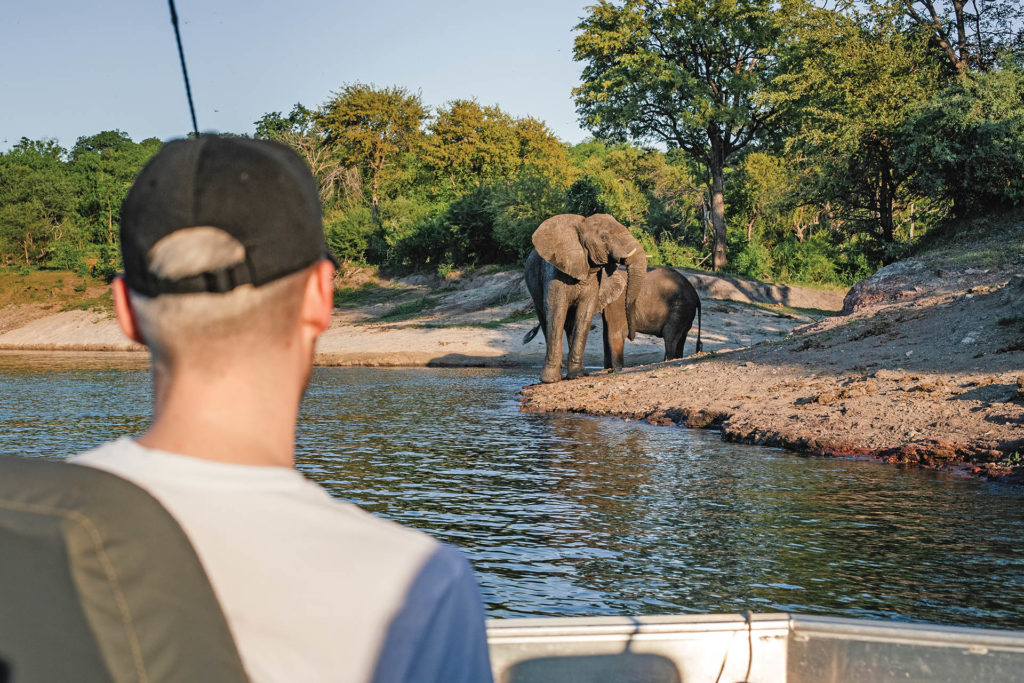 River Cruise
The river cruise is offered in the late afternoon to enjoy the spectacular sunsets along the Zambezi River. Guests can enjoy drinks and snacks with our guides on our comfortable river cruiser while keeping an eye out for game coming down to drink at the banks of the river. This activity is for children 12 years and older.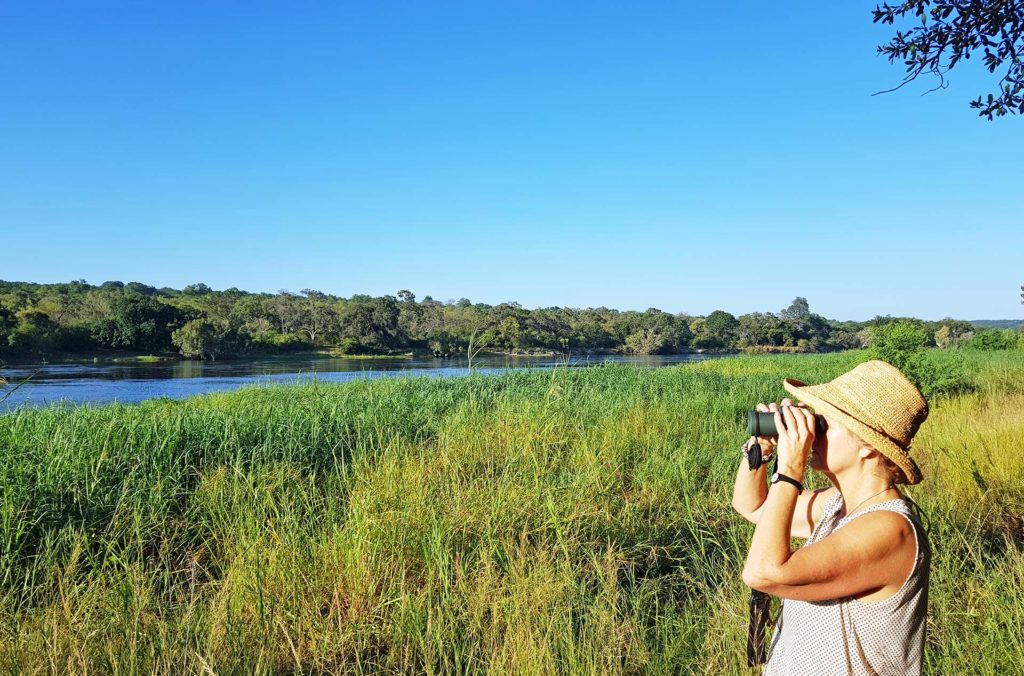 Island Walks
Guided 1 hour walks (or longer if desired) are offered daily to the centre of this magnificent island, home to century-old Baobab trees. Rare ground lilies flower early in the year and a tranquil river runs through the island where a pair of breeding Pel's fishing owls reside in large Mangosteen and Jackalberry trees. The birdlife along the water's edge includes African finfoot and Schalow's turaco. This activity is for children 12 years and older.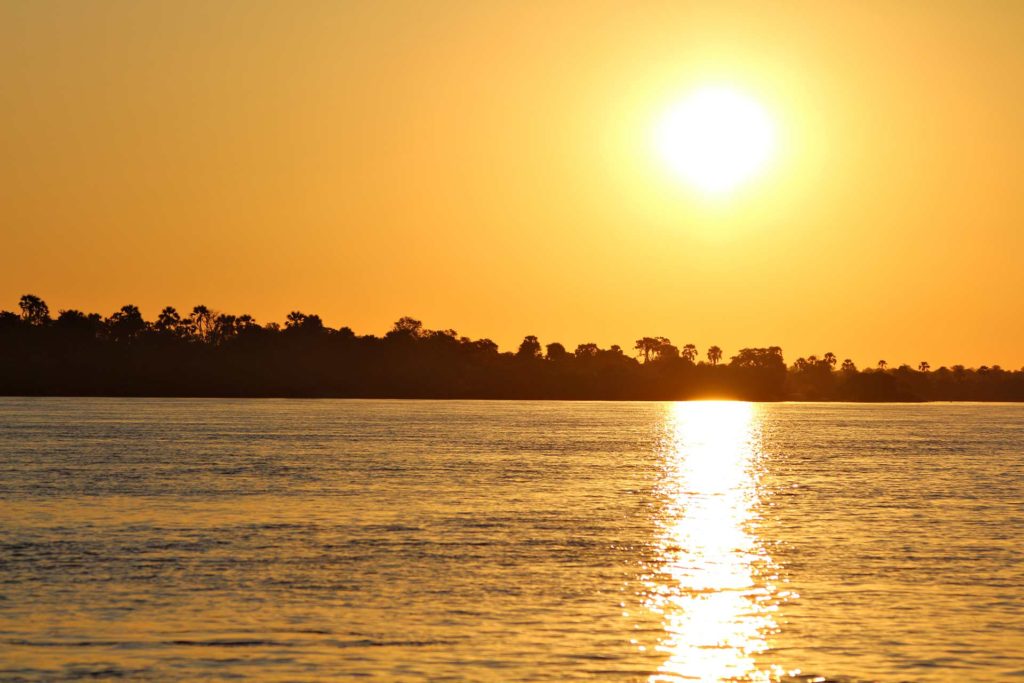 Fishing
Basic fishing tackle is available if you would like to do a bit of fishing. Unfortunately we do not supply fly-fishing equipment. Should you wish to do a specialist fishing trip with a guide please speak to our Camp Manager who will try to arrange this for you.
Specialist fishing trips available at an additional charge which must be pre booked. This activity can only be quoted on once we have specific dates and number of people wanting to participate.
Take a day trip to the beautiful Chobe National Park in Botswana. Chobe is well known for its high biodiversity, with extensive river-frontage, floodplains, grassland and dense woodland terrain. It is one of the most game-rich wildlife parks in the country, home to the Big 5. The Puku antelope may be seen on the floodplains. Birdlife is prolific, especially along the riverfront, including spoonbills, ibis and many types of ducks and waterfowl. Migrant bee-eaters are seen in summer. Chobe National Park is geographically beautiful and makes for a lovely day trip along the river and back inland through the forest and grassland.
FIND OUT MORE